Palma de Mallorca Airport/ Son Sant Joan
Discover the Mallorca Duty Free Reserve & Collect service pick up points. The Son Sant Joan International Airport is located next to Palma de Mallorca, capital city of the Balearic archipelago. It's the third airport with the largest number of travelers in Spain. The aforementioned Reserve & Collect service is an opportunity that Duty Free gives you so you can make your tax free purchases from the comfort of your home through our website. To do this, just reserve your online products and your order will be ready to be picked up at Palma Airport up to two hours before your flight, at which time you will also pay for your purchase.
If you end up opting for the comfort of this service, we have a Pick up Point at the airport that is located inside our Mallorca Duty Free store, whose operating hours coincide with the opening hours of the store. Also, in case you forget to add any of our products to your initial order, you can always complete your shopping cart when you are in our physical store at the Balearic airport.
Do not miss the opportunity to buy the best tax free cosmetics, such as perfumes and makeup, or liquor from exclusive manufacturers that will win you over for their incredible quality to price ratio. Access the Mallorca Duty Free catalog through the web and take advantage of our incredible offers and promotions. If you have any problems when picking up your Reserve & Collect order, Duty Free employees at Palma Airport will be happy to help you with any questions you may have. Place your order online today and pick it up in Palma de Mallorca!
PP

Pick up Points (1)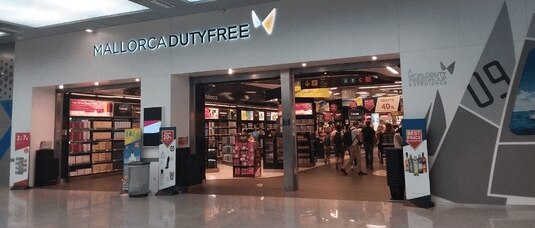 The Shop
---
Your goods will be ready for pick up 2 hours before the departure of the flight.
You can also do additional shopping while in store.
---
Any questions? Find your answers in: How does the service work? and FAQs.
---